Ljiljana Kolundžić
Ljiljana completed her Master's degree in Product Design at the Zagreb School of Design. From 2003 to 2008 she was employed in Inkea furniture company. In 2008, she has founded design studio Milimetar. Her professional interest focuses on product, interior and set design. Her favorite projects are self-initiated designs. At the moment she is engrossed in the reevaluation of craftwork, the research of local materials and natural environment and interaction of traditional with contemporary.
Ljiljana is a member of Croatian Designers Association.

(more info: www.coroflot.com/milimetar)
HOTFLAT TRAY, 2010

The Hot flat trays/coasters are made of glass bottles by a process of fusing glass in kilns at temperatures of over 800 degrees centigrade. The designer is particularly concentrated on the ecological aspects and all the possibilities the process offers. The coasters are produced using surplus energy from other production processes or by filling up the space in the kiln still free when other objects are being made.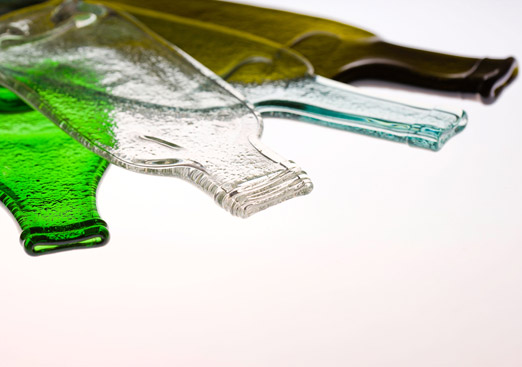 SYMBIOSIS CONCEPT & MITOSIS TABORET, 2010

Symbiosis is a concept for the education of the public about design and ecological responsibility. The designer as an educator forms new lines of communication between local industry and schools / public. In collaboration with both partners, designer offers the schools free ideas (designs) on how to use the local industrial waste materials (for example, felt leftovers, car tyres) to build new, useful objects.  The process of recycling the discarded (industry) and the process of making a new product (the schoolchildren) are key educational cogs in the understanding of the proper use of design.
The Mitosis taboret, that can easily be made in school with the use of discarded materials (felt, cord and tyres), is an example of the way the author's concept can be employed in practice.